Sky-high delights: The best restaurant views in Boston at The Beacon and Stratus
Contents
View Boston, the city's newest attraction is not just a sightseeing spot, but a culinary adventure waiting to be discovered. This 360-degree observation deck offers more than just panoramic views of Boston's skyline. From the panoramic views at Stratus to the refreshing ambiance at The Beacon, View Boston caters a unique culinary experience with its dining options. Stay on this page as we delve deeper and deconstruct your dining experience.
View Boston restaurants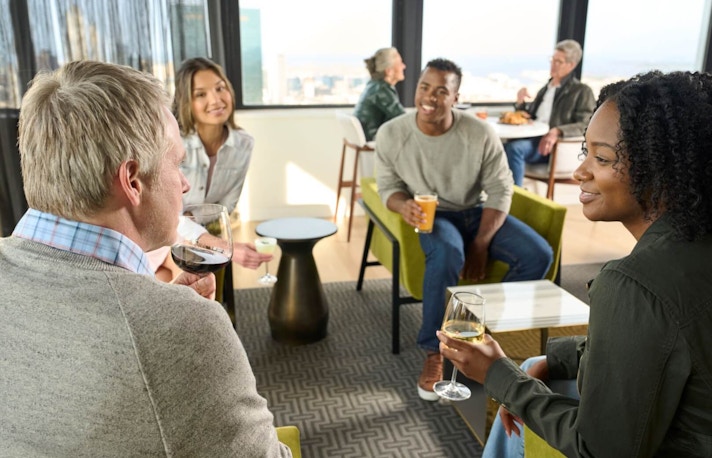 The Beacon
Perched atop the Prudential Tower, The Beacon at View Boston offers a fine dining experience like no other. This bistro features a window-facing 22-seat bar where you can enjoy locally brewed beer, or cocktails to pair perfectly with your menu selections. Each menu item is beautifully presented and regionally inspired and the dishes range from hand held bites to savory gourmet platters. The modern interior design and uplifting atmosphere make it the perfect destination for a celebration, date night, or drink with friends.
Timings:
Monday-Sunday: 12 PM - 9 PM
Price range: $35 - $100
Location: 50th floor of the Prudential Tower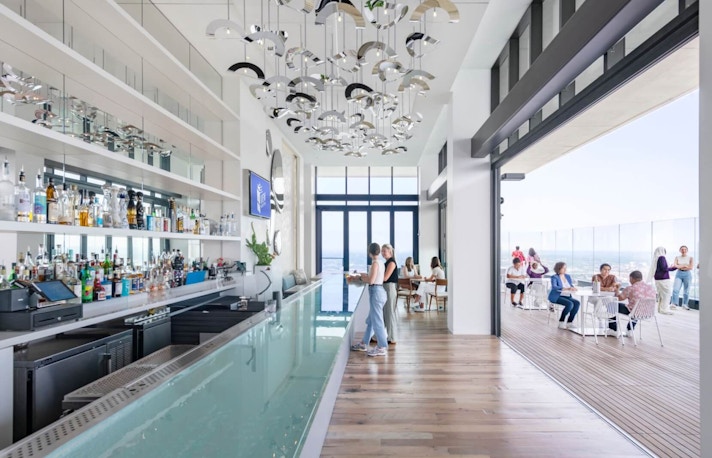 Stratus
Enjoy a cocktail experience like no other at Stratus. Located on the 51st floor of the Prudential Tower, this restaurant offers handcrafted cocktails created with unique spirit infusions and house-made ingredients that can be enjoyed both indoors and out. Admire the ambiance of this neo modern interior bar or walk the 360-degree open-air roof deck while indulging in a signature cocktail. With stunning views of Boston, trendy handcrafted mixes, and a perfect sunset selfie spot, Stratus will be a lovely experience
Timings:
Monday-Sunday: 12 PM - 10 PM
Price range: Under $30 (estimated)
Location: 51st floor of the Prudential Tower
Frequently Asked Questions About View Boston Restaurants
Are there any restaurants at View Boston?
Yes, there are two restaurants inside the View Boston observation deck - The Beacon & Stratus.
Can I eat at the View Boston?
Yes, you can eat at any of the two restaurants in View Boston. They have a wide choice of regional and hand crafted offerings.
Can I drink at the View Boston?
Yes, you can enjoy alcoholic drinks at View Boston. Stratus is an indoor/outdoor lounge where you can try out specialty mixes.
How much does it cost to eat at the View Boston?
Depending on the choice of the restaurant, it can cost anywhere between $10 and $100 to dine at View Boston.
What cuisines are available at the View Boston restaurants?
Enjoy a selection of cuisines like Italian, French, Southern American and Israeli at The Beacon and then head over to Stratus for a delicious range of cocktails.
What are the opening hours of the View Boston restaurants?
Both Stratus and The Beacon are open on all days of the week. Stratus is open from 12 PM to 10 PM and The Beacon is open from 12 AM to 9 PM.
Is dining at the View Boston restaurants worth it?
Yes, the View Boston restaurants are definitely worth a visit. The Beacon is perfect for experiencing regionally inspired bite sized dishes and Stratus is a must try if you are a spirits enthusiast wanting to explore signature mixes. Either way, you get to savor the best views of Boston!